CD JUNKIE chats about DOG TRUMPET vinyl reissues!
4 views • Nov 10, 2021 • On this video, I chat about brand new vinyl reissues of albums by DOG TRUMPET, the Australian duo comprised of REG MOMBASSA and PETER O'DOHERTY, formerly of MENTAL AS ANYTHING!
Also features a medley of tracks from the first 3 reissues!
Vinyl LPs now available from Demon Music Group!
Peter O'Doherty and Reg Mombassa release Great South Road
Album Review; Great South Road 17.4.20
Stephen Schnee Discussion Magazine USA;
Something magical happens when siblings form bands. From The Everly Brothers to Oasis, there's a dynamic within that 'group' that tends to lift that music to a different level. However, two (or more) siblings in a band can cause so much friction that the resulting sparks burn the whole band to the ground. There's a fine line between love and hate and sometimes, siblings forget how to tell the difference between the two. One pair of brothers has managed to create beautiful music together for 45 years and show no signs of the dreaded 'sibling rivalry' cliche: Peter O'Doherty and Reg Mombassa (real name: Chris O'Doherty). As members of Mental As Anything (from 1976 to 2000) and Dog Trumpet (since 1990), Reg and Peter don't follow any formula or blueprint – they just get on with creating music. And on GREAT SOUTH ROAD, their seventh full length album, the brothers have created something that can easily be described as 'sibling revelry'.
While they both come to the same destination – thoughtful Folk-infused Rock – the brothers travel down different paths to get there. Peter uses beauty to paint his musical pictures – his melodies speak to the heart, offering warm and comforting vibrations while his lyrics soothe the soul. Reg, on the other hand, takes a different approach, much like your favorite eccentric uncle. His music is most certainly from the heart but he paints a different kind of picture – you can find beauty in the darkness and darkness in the beauty. These two approaches compliment each other, often over-lapping and frolicking together in the Dog Trumpet aural universe.
After over 40 years of creating music. Reg and Peter are still discovering new ways to express themselves. While some of their recordings have been a bit introverted, GREAT SOUTH ROAD is an album that finds the brothers opening up and letting the music breathe. But have no fear, there are still plenty of layers here to unpack, both musically and lyrically. On the surface, Dog Trumpet make records that seem simple and easily digestible but once you dive in, there's so much depth. And it is safe to say that GREAT SOUTH ROAD is a feast of conflicting emotions by two clever yet grounded songwriters. While it is most certainly a cliché to say, these chaps are still at the time of their game.
Highlights include "Not Quite Enough", "Lonely Death Cleaning Company", "Stay For Too Long", "Gravity", "You've Heard It All Before", "Gangrene"… To be honest, you could replace those song titles with any of the other tracks and I'll still stand by it. Mesmerizing from start to finish.
Dog Trumpet doesn't make Pop-by-numbers records. GREAT SOUTH ROAD is immediately appealing yet it can be deceiving at the same time. Reg and Peter make albums that are honest, intelligent, and melodic. And to say that this is quite possibly their finest – and certainly most consistent – collection of songs might be an understatement. There's really nothing quite like a Dog Trumpet album – classy, eccentric, and lovely. GREAT SOUTH ROAD is one of the year's best albums and climbs to the top of the Dog Trumpet 'best albums' list.
Paul Cashmere Noise11;
'Great South Road' is an album of great observations from two different perspectives. Peter O'Doherty tells tales of middle aged men and their flaws in relationships while Reg Mombassa encounters the dark side of real life situations with his unique dab of humour. The songs are documental. Musically when the two brothers guitars dual they create the greatest sibling sounds in Australian rock since the Young brothers. The sound is monumental.
Pop and rock
So I need a segue into Saturday night . . . Speaking of 1960s music (!), my Saturday night involved an impromptu trip to the Factory Theatre in Marrickville to see Dog Trumpet. I saw them this time last year with friends, but before that I had been largely ignorant of this rock band featuring ex Mental as Anything members (and brothers) Reg Mombassa and Pete O'Doherty, as well as Inner West institution Bernie Hayes.
I can't really classify myself as having been a fan of 'the Mentals' exactly, as their heyday was slightly before my time, but they were certainly a feature of my formative years – kind of like the familiar geometric wallpaper of my childhood home. On the night, Dog Trumpet played the Mentals hit 'Berserk Warriors'. Instantly it transported me back to being five; for Christmas my sister was given the compilation '1982 with a Bullet' featuring that song, and it enjoyed high rotation at our house throughout the eighties. So there's sort of a special place in my heart for Reg and Pete to begin with.
They are damn impressive musicians. The music is a mix of 1960s influences, roots, blues and light country, and it's earthy, lively and fun – despite some potentially heavy subjects – and they just have a great time on stage. Highlights from the gig include the tribute 'Made in the World', which lists off important global figures who've all made significant contributions somehow, many of them now dead. 'With Good Reason' has a happy, upbeat melody that belies the lyrics laden with the number of ways things are a bit shit right now: 'Oh Lordy what we gonna do, if the world is going to end then so will you'. The brothers joked at the end how Tony Abbott hates that song and refuses to acknowledge its existence, and a couple of Abbott impressions ensued and were much appreciated by the audience.
And then they broke out 'Little Red Rooster', with Bernie Hayes on vocals and acoustic guitar, Reg on face-searing slide guitar. Woo boy, it was goood. 'Cos it's not enough to be one of Australia's most well known and beloved artists, the sinewy-armed old bastard can PLAY. The whammy got a workout on a couple of songs too – bloody brilliant.
So you might think it's enough that Reg and Pete are such talented musicians, that Reg and, it turns out, Pete are prolific, successful artists. But no, they also seem to be two of the hardest working artist/musos walking around: 'Equally successful in the visual arts as music, these creative dynamos were asked to produce a whole exhibition's worth of prints and etchings in seven days, all the while also strapping guitars over their shoulders and playing a few gigs around town.' Wtf, guys.
They're also very funny, laconic men. For me, their warm, witty banter between songs is an integral part of the show. Reg has a dry cool wit; his Wikipedia page reveals he is inspired by 'the wind, semi-professional birthday clowns, heavy machinery and the behaviour of domestic animals'. (Actually, he might've been only half-joking.) And they're just plain nice and incredibly down to earth, as evidenced when I sidled up to Pete after the gig for a signature and he was only too happy to oblige, apologising for the fact that his brother had 'buggered off – but you've got the most important one so that's good'.
Oh and did you know that an artwork by pop artist Martin Sharp appears on the Dog Trumpet album Strange Brew? Me neither until right then. Aaand there's my pop art segue. Bam!
Reviews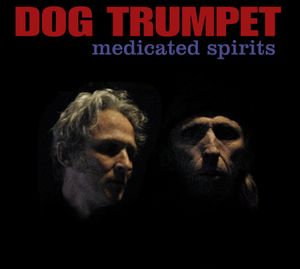 BMA Magazine
*****
Every now and then a song will stop you dead in your tracks; Shiny Armour, squirrelled away towards the end of Dog Trumpet's sixth release, is one of those songs. A simple chord progression backed with weeping slide guitar gives way to a slow waltz. It's the story of a man returning from distant battles only to find his girl couldn't wait, and went off with someone else. There's nothing too tricky going on, it's just a brilliantly composed pop song with delicate, yearning melodies of loneliness that slip away far too soon.
Dog Trumpet started as a low-key side project for brothers Reg Mombassa (Chris O'Doherty) and Pete O'Doherty in 1990 when their main band – Mental as Anything – went on a short hiatus. A decade later, they'd both left the Mentals and the side project was now the main band. Both have enormously successful artist day jobs, so Dog Trumpet albums arrive unhurried and unburdened by any need to prove anything. As such, Medicated Spirits sounds like it could have been released any time over the last 30 years, and even though it skips all over the genre map, it is a rarity – a complete sounding double album with no filler.

Part of it is simple mechanics; the album is bookended by a pair of lush instrumentals. It starts
joyously with Elizabethan which sounds like Richard Thompson slowing down just a tiny bit and forgoing the complicated chords. Over an hour later it closes with Aqualine, a tumbling slide guitarinfusedprog-pop nugget. Though not exactly an exclamation mark, there's an air of satisfied conclusion about it, knowing full well the circle has been completed.

Of course, if you choose to pick and choose album tracks, you might notice Medicated Spirits resembles a cult radio station playing vaguely familiar but totally unknown gems. There's languid scuzzed-up summer pop (Speed of Light), light and fresh bucolic psych (Moon and Star), off-kilter folk (Tell Me), and light country (Telegraph Pole, With Good Reason). Oddly, the only song that really sounds explicitly like their previous band – the chugging Camel Rock – was written and sung by Bernie Hayes. The common denominator throughout it all, regardless of overt musical styling, is that every track brims with classic power pop melodies and offbeat tweaks. Then there's Reg Mombassa's elegiac slide playing, which can rattle between the heartbreaking – as above, Shiny Armour – and driving blues (Penal Colony). Without a doubt, one of the most underrated guitarists in the country.

Lyrically, the O'Doherty brothers aren't exactly strangers to quirk. But don't make the mistake that many have before of assuming that clever puns and cunning rhymes aren't masking anything deeper, that it's just funny imagery. Even an overtly politically themed songs like With Good Reason, full of modern anxieties (war, climate change, imperialism) can sound like a breezy Saturday afternoon amble.

Medicated Spirits is eclectic, but often that word is proxy for occasional good ideas buried amongst barely refined demos and a scattershot approach to songwriting that is jarring. But this
sort of eclecticism is a pair of seasoned songwriters fashioning a bunch of songs cut from the same cloth, that still manage to sound completely different. It's also an album of confident relaxation, stretching out with friends (Amanda Brown, Iain Shedden, Bernie Hayes) and family (Declan O'Doherty) but not wasting anyone's time. Amazingly, in 2013 Dog Trumpet has released an industry-defying double album of fully realised and outrageously catchy songs, that stakes a
serious claim for the year's best. It couldn't happen to a nicer bunch of musicians.
JUSTIN HOOK
Straight from Opera House 
to Quarterdeck
By Stan Gorton  Narooma News
Nov. 27, 2013, 11:35 a.m.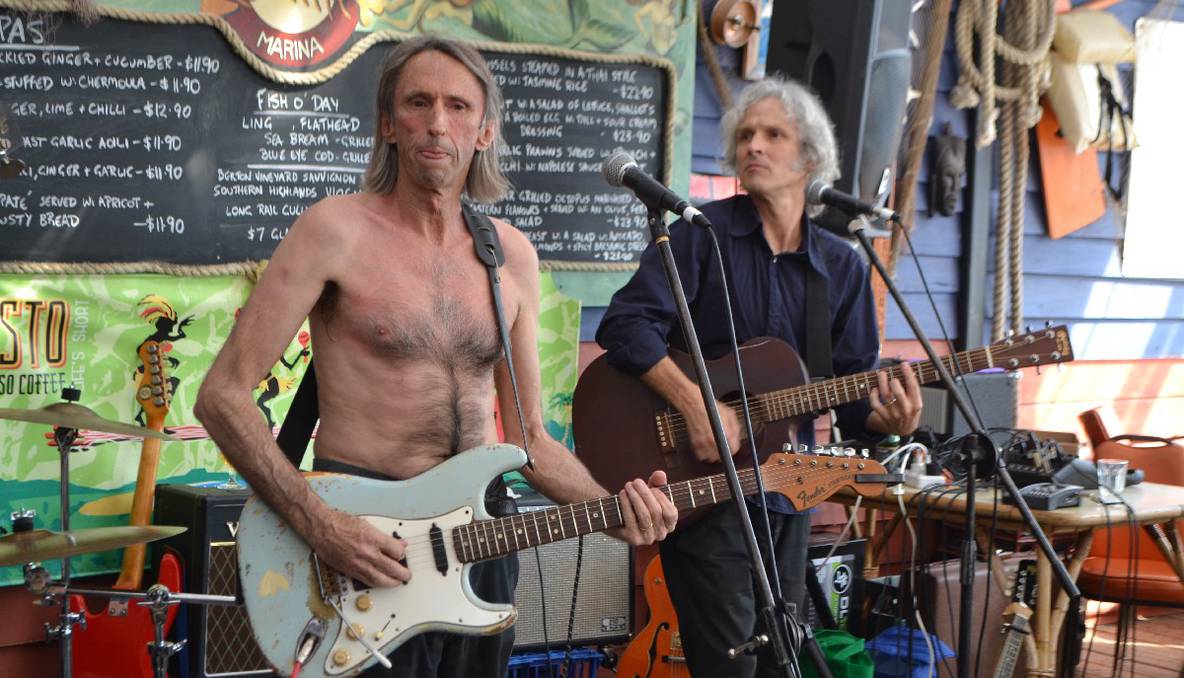 THE band Dog Trumpet featuring Reg Mombassa and his brother Peter O'Doherty went straight from playing a sold out studio theatre at the Sydney Opera House to an intimate gig at The Quarterdeck on Sunday.
Reg and Peter of Mental as Anything fame and the two other band members had the sold-out crowd at the waterfront restaurant in stitches with their amusing banter that interspersed great musical talent.

After the usual encore, Dog Trumpet came out for not one more song but five more with Reg going topless for the last song in his best possum impersonation. Suddenly for those lucky enough to be there, three and half hours had passed. Reg said it was a great venue with a great crowd, a great host and food in a beautiful setting.
Dog Trumpet is a family affair spearheaded by brothers Peter O'Doherty and Reg Mombassa, former members of iconic Aria award winning Australian band Mental As Anything.
In 2013, they continue their sonic alchemy of psychedelic folk, country and semi-abstract blues with their sixth and best release, a double album, Medicated Spirits.
Reg is well known for his idiosyncratic work for Mambo Graphics and as a fine artist. Peter is also a successful and much sought after painter.
Dog Trumpet members are no strangers to the region as Reg reminisced about regular Mentals gigs at the Tathra Hotel and associated crazy cricket matches. Bass player Bernie Hayes has been visiting for 30 years and six years ago bought a place at Beauty Point, hence the song "Camel Rock" on the new album Medicated Spirits.
Bernie suggested they play the Quarterdeck after the Opera House and then the Milton Theatre on the way down.
    THE BOYS: Quarterdeck Chris with Reg Mombassa and Peter O'Doherty Bernie Hayes and Iain Shedden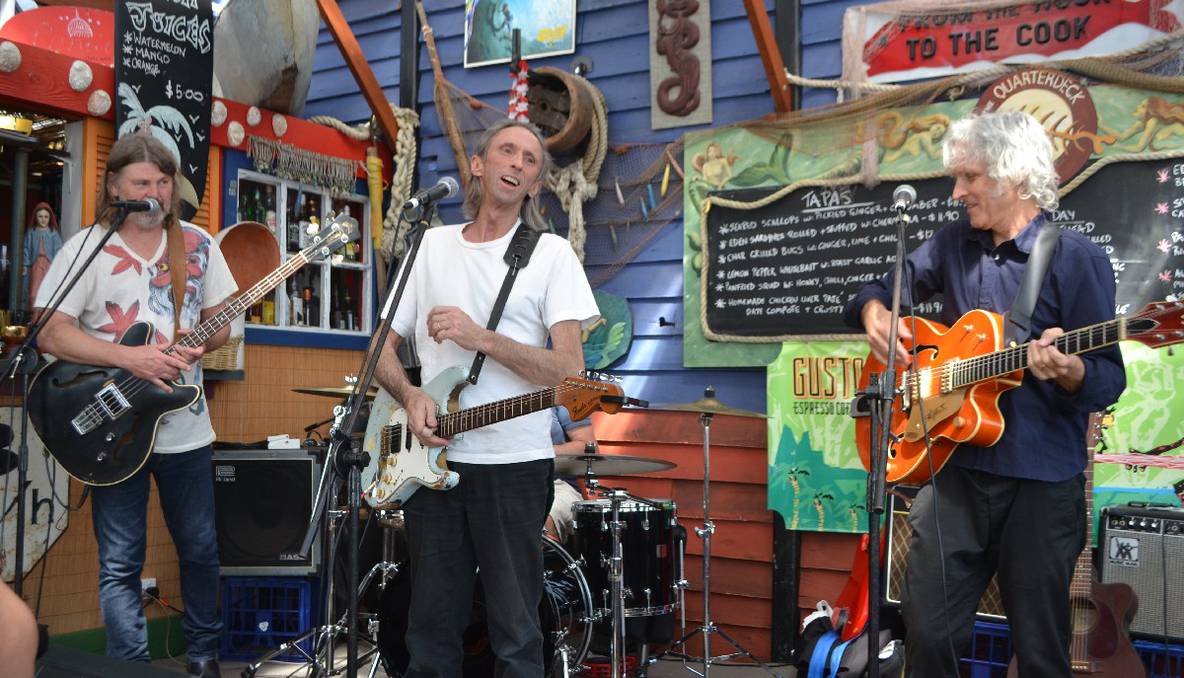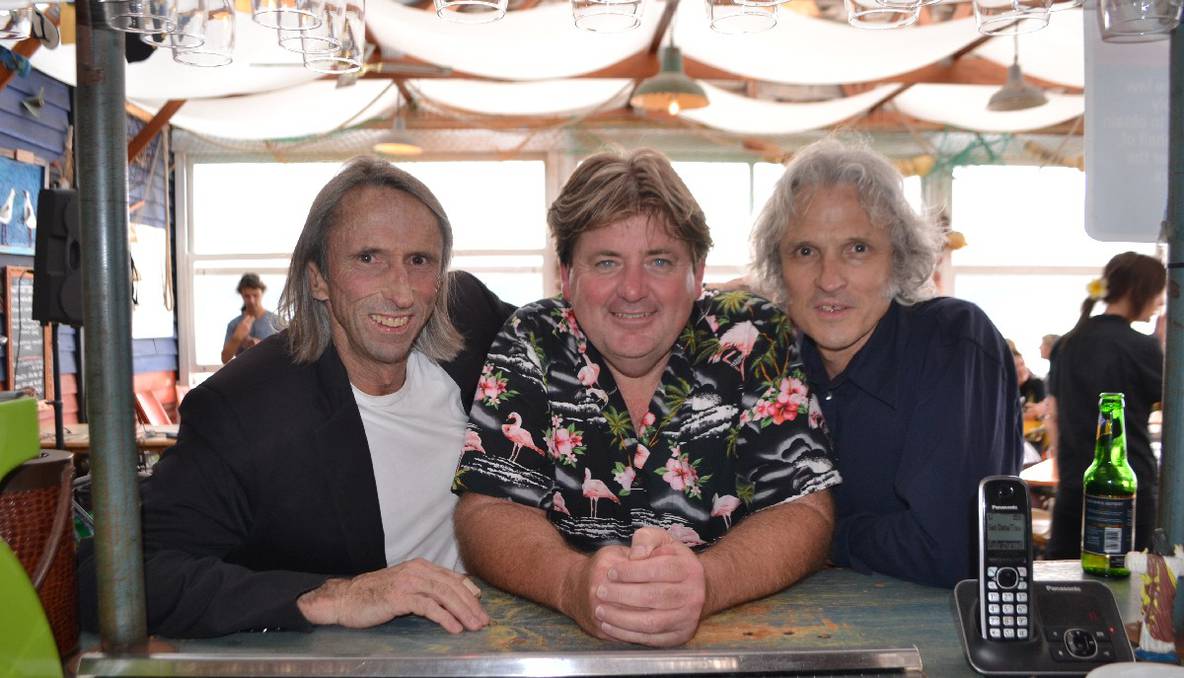 GIG REVIEW– DOG TRUMPET

: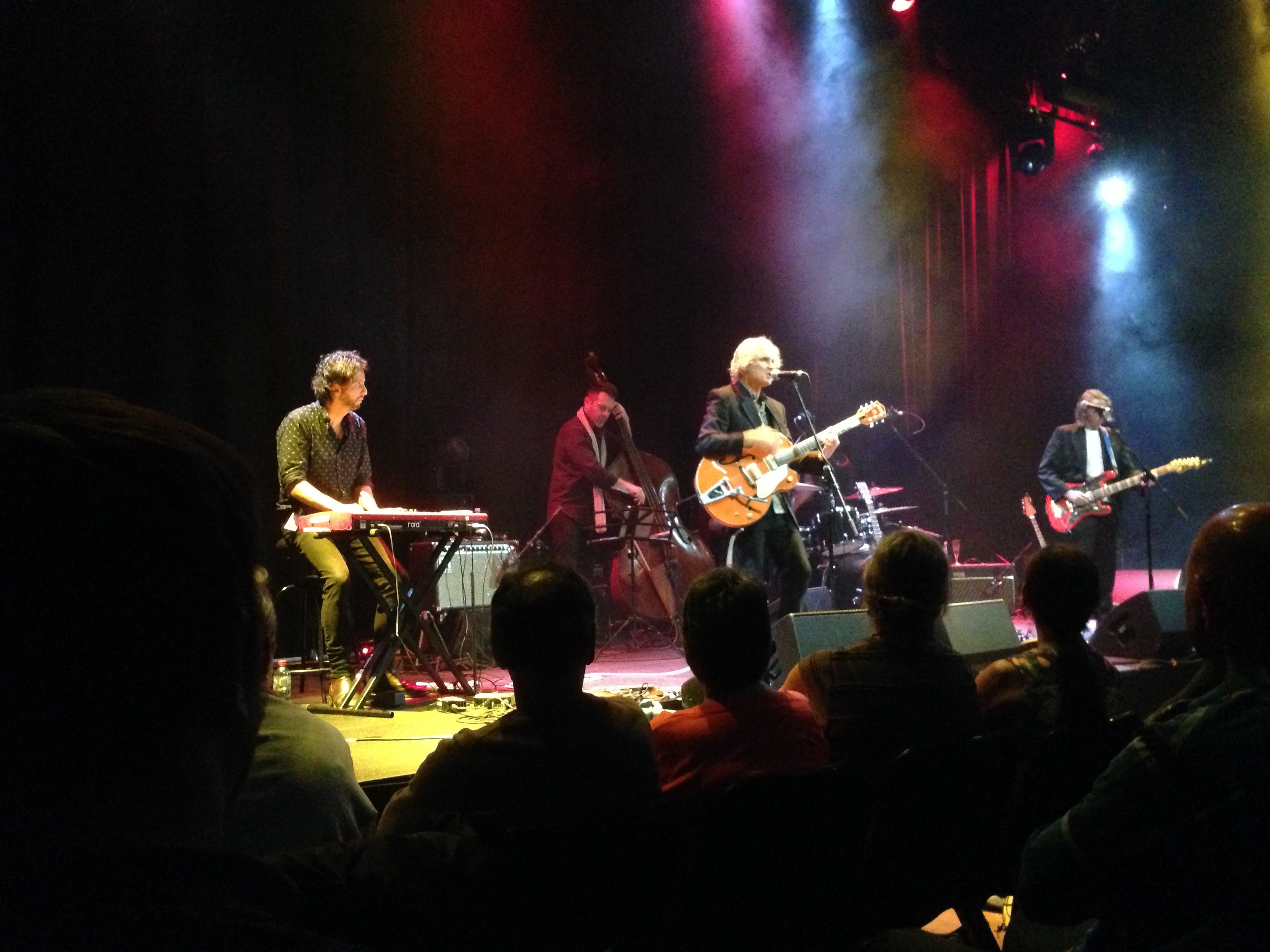 NOV 22 at Sydney Opera House Alternative Media Group
Posted November 25, 2013
Reg Mombassa and Peter O'Doherty were once 'Mental As Anything', but for the
last twenty-two years have been revolutionising genre and making waves as Dog
Trumpet.
There was a nonchalance moving through the Studio at Sydney Opera House as
Holidays On Ice kicked off with their impressive opening set. The dreamy electropop
was the perfect precursor for Dog Trumpet's rousing mishmash of folk, country,
rock and blues.
You expect a degree of competency from brothers who have been writing and
performing together for nearly four decades. Both O'Doherty and Mombassa proved
they're still top of their game, seamlessly switching between instruments, styles and
moods with dexterous precision.
The pauses between songs were infused with the distinctive comedic yarns the
audience have come to love as much as the music itself. Bolstered by guest
performances from Amanda Brown on violin and Peter Mitchell on harmonica, Dog
Trumpet upheld their status as one the world's best hybrid bands (RG).
BY RHYS GARD
Discussions Magazine.com
U.S.A.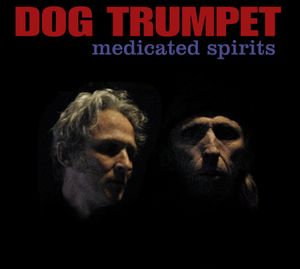 DOG TRUMPET
MEDICATED SPIRITS
    For over 35 years, Reg Mombassa and Peter O'Doherty have been creating some of the most distinctive music in Australian history.  While they were two-fifths of Australian legends Mental As Anything from 1976 to 2000, they were crucial to that band's success. Martin Plaza (guitar and vocals) and Greedy Smith (keyboards and vocals) may have been in the spotlight a bit more, but Reg's slide guitar and Peter's inventive bass playing helped to create and fuel the Mental's unique sound.  The fact that Reg and Peter wrote plenty of songs for the band only solidified their standing as two of Australia's premiere talents.  When The Mentals went on hiatus at the end of the '80s, Reg and Peter formed Dog Trumpet. Their debut album, Two Heads One Brain (1991), continued in the Mentals tradition of expertly produced Roots Rook/Pop.  The Mentals got back on track in the mid '90s but that didn't stop Dog Trumpet from releasing their next album, Suitcase, in 1996.  Reg and Pete left Mental As Anything in 2000 in order to focus on Dog Trumpet and their art projects.  The duo released three more albums from 2002 to 2010 (Dog Trumpet, Antisocial Tendencies and River Of Flowers), all of which were gloriously unique and inspiring. 
Now, three years on from River Of Flowers, Reg and Peter have released their masterpiece - Medicated Spirits.
While it's not entirely different from their last few albums, the duo have come up with their finest batch of songs to date and released in as a double album... on two CDs! It doesn't get much better than this, to be honest.  19 songs and every one of them a gem. Reg and Peter don't just write Pop songs - they paint aural pictures that they fill in with different shades, colors and genres. But with that being said, the tracks are still very earthy and warm. The charm in Dog Trumpet's music is that there is such beauty in their simplicity.  Dog Trumpet sound like no one else and that is a rarity in this day and age. The album is awash with acoustic instruments and delicious harmonies that offer up an almost magical feel to each track. This isn't music created to shift units - it is music that connects with the listener on many different levels.  Shifting units is just a plus. Fans of Alt-Country, Pop, Rock 'n' Roll, Blues and Folk would do themselves a favor by clicking on one of the links above and buying Medicated Spirits immediately
Highlights: 
The album's opener, the instrumental "Elizabethan", is similar in spirit and style to some of Paul McCartney's early '70s instrumental pieces on the McCartney album. Yes, it's that good.  

"Speed Of Light" kicks things up a notch with it's heavy fuzz bass and Psychedelic Folk groove. Peter's affinity for Psych-influenced melodies is immediately apparent here.  
Reg's "Made In The World" is a catchy Blues/Folk ditty with a keen Pop sense to it  You will find yourself singing this track to yourself and your friends for weeks afterwards (and MY friends can verify because that's just what I've been doing since I first played the album!)

"Bored Wife" has been one of my favorite Dog Trumpet songs since it appeared on an EP two decades ago.  They've re-recorded it for this project and it has lost none of it's emotive power in this new updated version.  It is touching and melancholic, although a bit more raw and loose.  

"Ray Davies And The Kinks" sounds nothing like Ray Davies and The Kinks although the lyrics paint a glorious picture of a road trip listening to Ray and the boys, and that is just as fun.  More Muswell Hillbillies than Kinda Kinks, its a track that will earn repeated listenings on your next road trip.  Who needs Ray when you have Reg?

"Methylated Spirit" has a wonderful hook that is accented by some fantastic harmony vocals that sound almost other-worldly. 

"What Falls Away" is a splendid Pop song from top to bottom.  Again, the backing vocals really help make the song the perfectly constructed recording that it is. 

"Camel Rock" features fantastic lead vocals by band member Bernie Hayes, a performance that now has me trying to track down his two solo albums. Hayes gave a stellar vocal performance on "Bloomsbury Birds" from their album Antisocial Tendencies as well.  

"Broke In Many Parts", "Tell Me" and "Moon And Star" have some of the prettiest melodies that Peter has written.
While they don't sound like old Mentals recordings, songs like "Telegraph Pole" and "Arriving At The End" wouldn't sound out of place on their albums Get Wet and Espresso Bongo. 
I could go on and talk about every single track on the album, but my goal here is to inspire you to run out and buy Medicated Spirits, not to bore you with my personal love affair with this double disc delight.  Dog Trumpet have recorded the best album of their career thus far as well as one of the best albums of the year.  Not bad for a couple of fellas who've been doing this for nearly 40 years... not bad at all!
Peace, love and puppies,
Stephen SPAZ Schnee
U.S.A.
Dog Trumpet (Reg Mombassa & Peter O'Doherty) 
Speed of Light
http://www.youtube.com/watch?v=qZt1J8d9YEE&feature=player_embedded
_________________________________________________________________________________________________________________________

Sydney Morning Herald  Saturday 24th of August 2013
Medicated Spirits review: 
Dog Trumpet stays true garage roots
Reviewer rating: Rating: 4 out of 5 stars
Rock has a knack for hanging on to the various styles from across its history. Everything from rockabilly to heavy metal and punk have been sustained by successive generations of players and fans. Among the threads is a subsection of pop-rock that we might call the ''charm school''. It runs from the Beatles and the Kinks through Hunky Dory-period Bowie to Nick Lowe and on to Dog Trumpet.
Brothers Peter O'Doherty and Reg Mombassa can't help themselves. The charm oozes from the lyrics, the singing and the instantly appealing melodies. Part of it is down to the absence of posturing, part to the way the catchiness of pop is anchored to earthy grooves, and part to the ingenuousness of O'Doherty's singing.
Then there is the winking wit peeking through the lyrics and the affection evident in musical nods to precursors.
Such songs on this double album (their sixth) as Speed of Light (with its fuzz bass), Bored Wife (''My wife is so bored that I think she might leave''), Raise Your Glasses, Moon and Star and Tell Me (to mention just five) are fast friends by just the second listening. The singing is like receiving a smile when a forbidding door is opened to you, and the playing is iced with such little gems as Mombassa's slide guitar on Penal Colony.
The brothers attract collaborators of the calibre of Hamish Stuart and Jess Ciampa, and yet through it all chirps the joy of the fledgling garage band, as was there when they co-formed Mental as Anything 38 years ago.
LIKE THIS? TRY THESE The Beatles, Revolver; Nick Lowe, Jesus of Cool. 
DOG TRUMPET  Medicated Spirits (Orange Lounge Recordings)
__________________________________________________________________________________________________________________________________

DOG TRUMPET – RIVER OF FLOWERS
Half a Cow - Folk Rock
Anthony O'Grady – THE AUSTRALIAN, June 19 2010  
4 stars
ON Rivers of Flowers brothers Peter O'Doherty and Reg Mombassa explore the universal truth that the past becomes more memorable and meaningful as time goes by. The album has the fractured wonderment of a kaleidoscope, by turns whimsical and wistful, always bubbling with charm and melody and gentle wisdom. The tunes are instantly familiar, each with a resonant emotional link to the song's subject matter. Thus the folkish, nursery-rhyme cadence of Into the Sky is the childhood imagining of a rainbow heaven. Invisible Eyelids is powered by a choogling reworking of a Chuck Berry riff with a wonderfully wobbly guitar break, a most apt backdrop for the sleepy Sunday musings of a suburban bloke with two cats, two kids and a rose of a wife. Throughout the album O'Doherty's new-found virtuosity on mandolin and Mombassa's adept slide guitar provide a consistency of sound.
A key song on the album is The Wilson Home for Crippled Children, O'Doherty's memory of 18 months of childhood when the bone disease Perthes had him strapped to a metal frame. His farewell to childhood boisterousness is the wistful mantra "got to learn to be patient, got to learn to let go". The brothers' adaptation of Irish troubadour Bap Kennedy's On the Mighty Ocean Alcohol reveals the sadness of their father's alcoholism, while Wood Grows on Trees depicts them coming to terms with the fact their father was also a bigamist and that they have an Irish half-sister. The O'Doherty family was kept on an even keel by the boys' mother, her unquenchable determination remembered with respect and affection on Manchester.
There is universality in the brothers' account of their personal history. Often there are no explanations why specific childhood memories endure. On Great South Road Mombassa recalls every detail of walking home past his aunt's house late at night. Mr Alcohol and Mrs Marijuana is a non-judgmental smile at youth's wholesale destruction of brain cells. Buttons Undone is the rueful teenage discovery that the female of the species enjoys sex longer than the male can endure. Though valuable lessons are learned through every stage of life, the album's finale, Strangers Like You (with exemplary trumpet from O'Doherty's son Otis), expresses the greatest truth of all, that the search for an all-encompassing meaning is a never-ending magical mystery tour.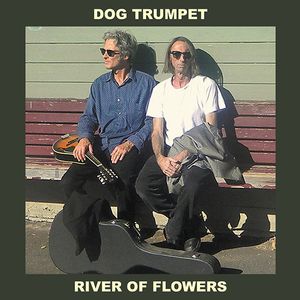 ---
DOG TRUMPET – RIVER OF FLOWERS 
SYDNEY MORNING HERALD SPECTRUM REVIEW
Bernard Zuel, Sydney Morning Herald, July 2010
4 stars (out of 5)
When reviewing the previous album from the O'Doherty brothers, Chris (aka Reg Mombassa) and Peter, I described what I saw as a "naive art" approach. I did not intend it as a put-down of their work as simple or childlike, but rather the opposite. What resonates through their work – this new album just as much as its predecessors – is first a handle on the art of songwriting.
In folk, pop, blues and just a touch of Hawaiian, they can do so much without ever making you notice the seams. These are numbers that move you without treacle, buoy you without false bonhomie and make you smile without gags. Dog Trumpet's songs sound relaxed and simple but that's because all the work has been done already, out of sight.
Lyrically the album is much the same. Listen to the autobiographical tale of being laid up in the Wilson Home for Crippled Children, where "time would go slow but what did we know/got to learn to let go", or the family history of Manchester, the hard-scrabble town of their mother left because "she was bright and pretty/and she wanted more", or the confusion and pleasure of love and lust in Buttons Undone. What you hear are straightforward tales that are rich with empathyand heart. They contain an understanding of fallible humans you only get as a grown-up.
There's nothing naive about the songwriters of River of Flowers but there is artistry. – LIKE THIS? TRY THESE Ron Sexsmith, Blue Boy; Ray Davies, Working Man's Cafe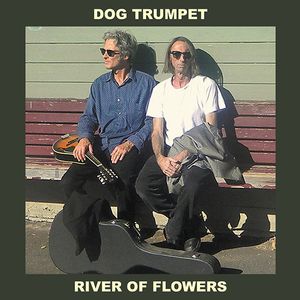 ---
DOG TRUMPET – RIVER OF FLOWERS
Author : Chris Peken Posted: Wednesday, 2 June 2010
4 stars
"He was going out on the town / With Mr Alcohol and Mrs Marijuana". It only takes two lines and already you know you are immersed in another delightful slice of life as seen through the colourful, skewed and wide-open eyes of brothers Peter O'Doherty and Reg Mombassa. While they may never escape the "former Mentals" tag, they have been making music as Dog Trumpet for some 18 years now, and River of Flowers represents three years of writing (in between painting, eating, drinking and the occasional friendly conversation). With extensive use of mandolin, Dobro and slide guitar, this album has an unashamedly roots and folk feel, with a touch of the psychedelic –
Invisible Eyelids
- thrown in for good measure.
Lyrically the brothers have gone for simpler tales like the family history of Manchester, telling the tale of their mother and her journey from Manchester to New Zealand: "Then she sailed away alone / She sailed across the sea / She sailed off to New Zealand / To have my brother and me". This simpler lyrical approach lets the warm mesh of the instruments breathe life into these tales. Without ever being flashy, just an Irish whistle here, a trumpet there, the musicianmanship is a highlight here. Yet another pair of Kiwis we will happily call our own.
****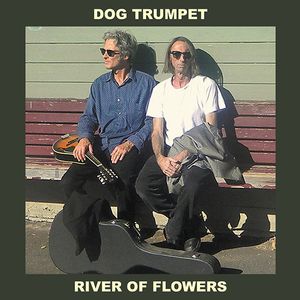 ---
Dog Trumpet – Antisocial Tendencies
Bernard Zuel - March 16, 2007
Underestimated talents ... Peter and Chris O'Doherty. So many good songs. So much fun.
As with their paintings, with their mutual love of the seemingly ordinary and domestic - those houses, holiday shacks, power poles and muted landscapes - the music made by Chris (Reg Mombassa) O'Doherty and his brother Peter in Mental As Anything and their double act Dog Trumpet has always been underestimated.
Liked certainly, loved often (who could argue that Peter's 'Berserk Warriors' wasn't just about the best Mentals song?) but that affection has come with the often unspoken addendum: well, it's fun and that's easy, isn't it? The mistake some people make is in assuming that if you don't see the complexity immediately, it isn't there. If the flawed voices sound short of booming, if the music isn't filled with tricky constructions, if the lyrics talk about comic books and pharaohs, then the songs are shuffled along to make way for something showier. You know, one of those songs that trumpets its wares so insistently that it can take a while before you notice it is nothing but an empty coat.
That doesn't happen with the O'Dohertys. The more you listen to them the more you marvel at how judiciously composed these pieces are; how clearly spoken are the barbs and how subtle are the little jokes; how deep the emotions run; and how easy it is to like these songs. While fixing her breakfast recently, my daughter began, without thinking, to sing "I must have antisocial tendencies, I must have antisocial tendencies" and then got on with her morning.
The album's title track, about not conforming in an age of creepy conformity, is a typical Chris/Reg song: part nursery rhyme, part opinion page, part Hawaiian pop tart. There are plenty more examples like it, such as the sweet story of lonely men,
The Curse of the Walking Dead
, the child-like but not childish
Reading Comics
and the pricking-kicking of egos in
Lord And Lady Pumpkin
, which makes me think of Andy Partridge's quasi-rustic reveries with XTC in the late '80s.
Peter's songs are much more in the style of Nick Lowe or Ray Davies, gently burnished pop gems with the kind of easy flow that takes a lot of hard work and skill to pull off.
Some Time
walks in dappled sunshine,
Once Too Often
works a clever metaphor inside the dreamy melody and
Bloomsbury Birds
(with guest vocalist Bernie Hayes singing gorgeously and Dale Barlow trilling prettily on flute) effortlessly breaks your heart amid a country-folk amble.
So many good songs. So much fun.